This Article is a Stub
This article or section of our database is a stub. Please help by adding information and make this stub worthy of our database. If there is no more information on this subject, however, please remove this template.
David's Office is the room at Mendenham that Headmaster David Tyrel used to see other teachers and students.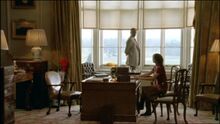 Known Visitors
Edit
Ad blocker interference detected!
Wikia is a free-to-use site that makes money from advertising. We have a modified experience for viewers using ad blockers

Wikia is not accessible if you've made further modifications. Remove the custom ad blocker rule(s) and the page will load as expected.