Jemima Rooper
Date of Birth:
October 24, 1981
Birth Place:
Hammersmith, London, England
Gender:
  Female
Character:
Thelma Bates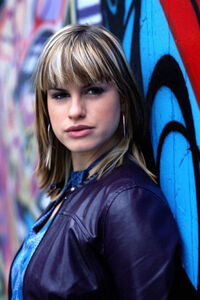 Background
Edit
Rooper was born in Hammersmith, London, England and is the daughter of TV journalist Alison Rooper. She attended Redcliffe Primary School in Chelsea, London and then, at age 12, went to Godolphin and Latymer girls' school. While working on The Famous Five she passed eight GCSEs with A* and A grades. From there she went to sixth form college where she got three A-grade A levels.
Rooper expressed a wish to be an actress at the age of eight and contacted an agent. Her first professional roles were in the 1993 film The Higher Mortals and the 1994 film Willie's War. In 1996 she appeared in all episodes as George in Enid Blyton's The Famous Five.
In 2008 she starred in the TV series Lost In Austen and guest starred in Agatha Christie's Poirot. She played a lead role in Her Naked Skin, a new play at the National Theatre.
She made her Hollywood debut in The Black Dahlia and is currently filming British horror Hotel Caledonia opposite Kelly Brook and Kris Marshall.
She currently shares a flat with her friend and Lost in Austen co-star Tom Mison.
See Also
Edit