Colin Salmon
Date of Birth:
December 6, 1962
Birth Place:
Bethnal Green, London, England
Gender:
  Male
Character:
David Tyrel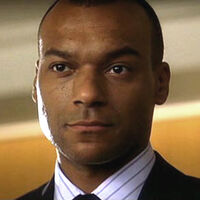 Colin Salmon (born December 6, 1962) is an English actor known for playing the fictional character Charles Robinson in three James Bond films.
Personal life
Edit
Salmon was born in Bethnal Green, London, England, the son of Sylvia Ivy Brundenell Salmon, a nurse.[1]He grew up in Luton and attended Ramridge and Ashcroft High School. He supports the Luton Town Football Club. Salmon married Fiona Hawthorne in 1988; the two have three children: Sasha, Rudi, and Ben.
Colin is known for his strong and calm voice and for his physical presence (his height is 6'4"). He plays Note Makoti in The No. 1 Ladies Detective Agency and David Tyrel in the Sky One UK television series Hex . He has also recorded the role of Kerr Avon in the new audio series of Blake's 7.
He appears as himself in the sixth episode of the BBC Three comedy, Little Miss Jocelyn. Salmon has worked twice with Paul W. S. Anderson: Resident Evil and Alien vs. Predator, in both of which he meets a grisly end (in fact, a very similar end in both).
In 2006 he appeared in eighth series Of ITV Drama Bad Girls as prison M.O. Dr. Rowan Dunlop.
He plays Dr Moon in two episodes of the fourth series of the long running science fiction television series Doctor Who.
See Also
Edit
Ad blocker interference detected!
Wikia is a free-to-use site that makes money from advertising. We have a modified experience for viewers using ad blockers

Wikia is not accessible if you've made further modifications. Remove the custom ad blocker rule(s) and the page will load as expected.