The Release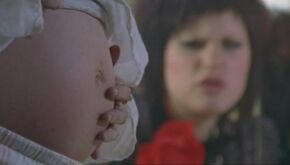 | | | |
| --- | --- | --- |
| Episode No. |   | Series |
| 6 | 1x06 | One |
Original Broadcast Date
14 November 2004

| | |
| --- | --- |
| Written by | Julian Jones & Lucy Watkins |
| Directed by | Brian Grant |
Chronological Information
The Release is the 6th episode of the first series and the 6th episode overall. It aired on 14 November 2004 on Sky1.
Azazeal does everything in his power to keep Cassie from getting an abortion, determined to see his child come into the world.
International air dates
Edit
USA (BBC America) 6 July 2006
NL (RTL 5) 4 March 2010
Featured music
Edit
This episode marks Troy's last appearance.
Jemima Rooper as Thelma Bates
Christina Cole as Cassie Hughes
Michael Fassbender as Azazeal
Anna Wilson-Jones as Jo Watkins
Colin Salmon as David Tyrel
Joseph Morgan as Troy
Jamie Davis as Leon Taylor
Amber Sainsbury as Roxanne Davenport
Zoe Tapper as Gemma
Co-starringEdit
Grant Parsons as Dr. Surtees (recurring)
Guest starringEdit
Roger Barclay as Young Preist
Amy Stacy as Nurse Megan
Ad blocker interference detected!
Wikia is a free-to-use site that makes money from advertising. We have a modified experience for viewers using ad blockers

Wikia is not accessible if you've made further modifications. Remove the custom ad blocker rule(s) and the page will load as expected.